BabyCakes Cupcakes is Lexington's first locally owned, independent cupcake bakery.
We make our cupcakes from scratch daily, using only real fruit & organic ingredients, never freezing or using pre-made mixes.  BabyCakes offers a wide array of flavors to challenge and delight the taste-buds.
We also hand-make decorations for one of a kind cupcakes & offer gluten free, vegan & sugar-free cupcakes with 24 hour notice.  Our cupcakes come from the heart and we make sure that only the best goes into each and every one.  We feel honored that you allow us to celebrate with you for birthdays, weddings, promotions, anniversaries and everyday joy.
For a full list of our flavors, please visit our website.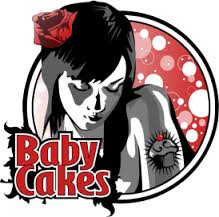 Sunday: -
Monday: -
Tuesday: 8:00am - 4:00pm
Wednesday: 8:00am - 4:00pm
Thursday: 8:00am 4:00pm
Friday: 8:00am - 4:00pm
Saturday: -
---