Voted Lexington's Best Used and Rare Bookstore.
For over 20 years, Black Swan has promoted the talents of local Kentucky authors, as well as hosting nationally recognized authors, both established and upcoming.
Books for both the reader and the scholar, in close proximity to downtown and the University of Kentucky.
Black Swan is located in the Woodland Triangle, in an historic 1912 building with an extensive inventory of primarily Kentuckians, military history, horse books, Americana, and literature.
Just as we sell through the Internet, we also offer special ordering services to our customers to provide a wider base of out-of-print and specialized titles, bindings and publishers.  Specialties include History, Horses, Cookbooks, Kentucky Literature Military History and Modern First Editions.
Established in 1984 and consistently rated Lexington's "best used bookstore", Black Swan offers a broad selection of used, rare and collectible books.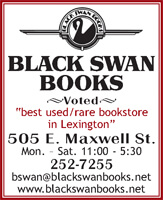 Sunday: -
Monday: 11:00am - 5:30pm
Tuesday: 11:00am - 5:30pm
Wednesday: 11:00am - 5:30pm
Thursday: 11:00am 5:30pm
Friday: 11:00am - 5:30pm
Saturday: 11:00am - 5:30pm
---