Corey Proffitt Studios Massage
Corey Proffitte Studios Massage provides exceptional therapeutic massage services in Lexington, KY.  Corey offers a wide variety of professional massage modalities including Swedish massage, deep tissue massage, sports massage, relaxation  massage, Hawaiian massage and more.  Specializing in pain management and relief, Corey also strives to make each massage as relaxing as it is healing.  Corey also specializes in treating TMJ disorders that can cause headaches and neck and shoulder pain.
The studio is located near downtown Lexington on Richmond Road in the Idle Hour Shopping Center.  Call today to see why Corey Proffitt Studios is an award winning practice.  You deserve it.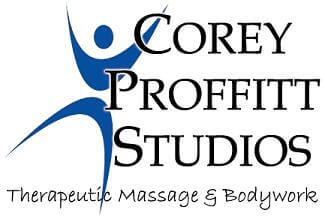 Sunday: 1:00pm - 6:30pm
Monday: 11:30am - 8:30pm
Tuesday: 11:30am - 8:30pm
Wednesday: 11:30am - 8:30pm
Thursday: 12:00pm 8:30pm
Friday: 1:00pm - 6:30pm
Saturday: 1:00pm - 6:30pm
---