NOW OPEN!  Visit our newest location in Brighton Shoppes located off Man O' War and Liberty.
When you eat at one of our restaurants, each of your teeth should individually be happier than they were before.  Puccini's specializes in innovative pizza, pasta dishes and salads of the highest quality, as well as calzones, sandwiches and low-carb meals; everything is prepared fresh daily.
So, you might be asking…Whats the deal with the "Smiling Teeth?"
At Puccini's we feel that when you dine at one of our fine restaurants, each and every one of your teeth should be happier than they've every been before.  Your over-worked, over-taxed, under-appreciated teeth deserve their own little smile.  That is our mission statement, our credo…YES! OUR CREDO!!
Delivery available.  Open daily for lunch and dinner.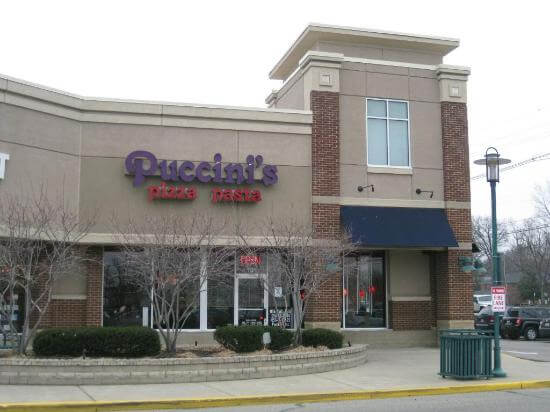 Sunday: 12:00pm - 9:00pm
Monday: 11:00am - 9:30pm
Tuesday: 11:00am - 9:30pm
Wednesday: 11:00am - 9:30pm
Thursday: 11:00am 9:30pm
Friday: 11:00am - 10:30pm
Saturday: 12:00pm - 9:00pm
---
Sunday: 12:00pm - 9:00pm
Monday: 11:00am - 9:30pm
Tuesday: 11:00am - 9:30pm
Wednesday: 11:00am - 9:30pm
Thursday: 11:00am 9:30pm
Friday: 11:00am - 10:30pm
Saturday: 12:00pm - 10:30pm
---
Sunday: 12:00pm - 9:00pm
Monday: 11:00am - 9:30pm
Tuesday: 11:00am - 9:30pm
Wednesday: 11:00am - 9:30pm
Thursday: 11:00am 9:30pm
Friday: 11:00am - 10:30pm
Saturday: 12:00pm - 10:30pm
---