Take A Spin Around Town With These Bike-Curated To-Dos
Story by Ashley Alt
Happy first week of July, everyone! We hope you all had a wonderful holiday.
While you may be tired from the festival, parade, fireworks show and other local celebrations, we are keeping the party going. Why? Because it's summer, of course. And there is so much to do, see and explore in the season that always seems to go a little too fast.
Because it is going to be a gorgeous (and not so ridiculously hot) Saturday and Sunday, we think it is the perfect weekend for biking around town. Thus, we have provided 4 different weekend to-dos, all revolved around taking a spin through the city.
Cycling Through The Centuries Tour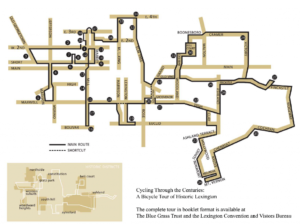 The name of this bike tour says it all — you really will be cycling through the centuries on this well-planned path around Lexington.
The complete tour is 11 miles long and includes 39 stops — 39! — encompassing all of Lexington's coolest historical landmarks like Hunt-Morgan House, West Second Street, The Opera House, Dudley Square, Henry Clay's Estate and many more historically acclaimed areas, as well as other sites of interest.
Click here for the full route and descriptions of destinations.
Lexington Eats Week "Flavors of Summer"


Okay, this one isn't bike-themed, but we had to throw it in there because July 8 is the last day this glamorous offer ends. (Besides, you could ride your bike to and from your restaurant of choice).
If you are wanting some seriously delicious food at an excellent price (special 3-course dinners for $29 per person or special lunches for $29 per couple), this weekend is your last chance to experience fine-dining at any one of the participating restaurants which include Grillfish, Holly Hill Inn, Lockbox, Nick Ryan's, and more.
Click here to see the complete restaurant lineup, and give your desired eatery a call to make a reservation.
Thirsty Pedaler
Have a group of friends coming into town? Give them an experience to remember with the Thirsty Pedaler. This 16-passenger bike is equipped with a sound system and adjustable seats, and here is the best part — it comes with a designated driver.
While this pub-crawl-on-wheels is a great way to celebrate birthdays, bachelorette parties or corporate events, it works just as well as a fun night out (or better yet, afternoon out) to check out Lexington's best beer and cocktail houses.
Click here for Thirsty Pedaler routes, prices and everything else.
Big Blue Pedaler

Now, if you're seeking more of a family-friendly activity but still want that same biking around town experience, have no fear because the Big Blue Pedaler is here, which offers brewery tours, historic tours and cruising tours, all of which are kid-friendly.
This is a fantastic and fun way to discover new neighborhood hot spots, get a little history background and re-appreciate the city that you call home. Click here for details including riding times and prices.
Take advantage of the sunny days ahead with these ride-by-the-seat-of-your-pants to-dos.
Happy biking!