A premier steakhouse and local favorite, Malone's steakhouse offers a dish everyone will enjoy.  Enjoy a diverse menu featuring USDA prime steaks, salads, fresh fish and seafood, sandwiches and other house favorites.  Seasonal check-driven features are every-changing and always a treat.  Malone's extensive wine list and bourbon selections perfectly compliment any meal.
With a passion for hospitality, you can expect 100% guest satisfaction, 100% of the time.  Be a guest at any of three locations.
Best beef on the Planet.  Everyone has a red letter moment in their lives.  High on Brian McCarty's list is his first bite of honest to goodness 100% USDA Prime Beef in a steakhouse in Chicago.  You might say it sort of changed his life because the first think he said when he could speak was, "This is the best beef on the planet.  Can I get it in Lexington?"  The answer at the time was, "No."  So Brian and his business partner Bruce Drake opened a steakhouse called Malone's and the rest is history.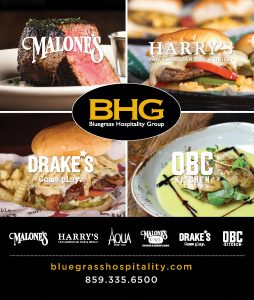 Sunday: 11:15am - 10:30pm
Monday: 11:15am - 10:30pm
Tuesday: 11:15am - 10:30pm
Wednesday: 11:15am - 10:30pm
Thursday: 11:15am 10:30pm
Friday: 11:15am - 10:30pm
Saturday: 11:15am - 10:30pm
---
Sunday: 11:15am - 10:30pm
Monday: 11:15am - 10:30pm
Tuesday: 11:15am - 10:30pm
Wednesday: 11:15am - 10:30pm
Thursday: 11:15am 10:30pm
Friday: 11:15am - 10:30pm
Saturday: 11:15am - 10:30pm
---
Sunday: 11:15am - 10:30pm
Monday: 11:15am - 10:30pm
Tuesday: 11:15am - 10:30pm
Wednesday: 11:15am - 10:30pm
Thursday: 11:15am 10:30pm
Friday: 11:15am - 10:30pm
Saturday: 11:15am - 10:30pm
---